Health Blog: Solutions & Wellness Tips
Foot & ankle injuries are a common problem for active individuals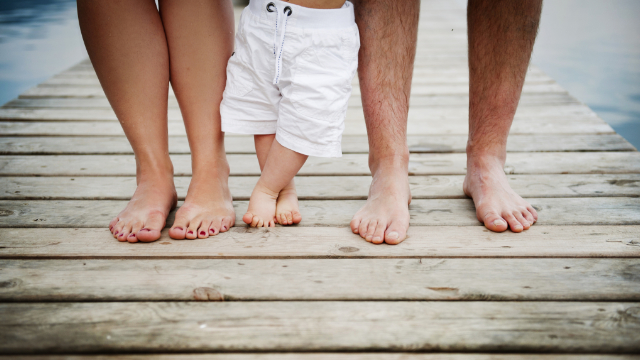 Over time, exercise and physical activity tend to strain certain areas of the body to the point of pain, and this distribution is not equally divided. While the region that's affected has much to do with the activity being performed, there are some spots that just seem to carry the brunt of the load no matter what.
The feet and ankles clearly fit this bill, as they are some of the most common locations for injury throughout the body. Problems arising here can occur in anyone, but those who keep an active lifestyle are far more likely to be affected than others. This is apparent across the age spectrum, as foot and ankle injuries are seen frequently in children and then remain prevalent into adulthood, with some people experiencing the same issues in the long term.
Understanding a few of the most common foot and ankle injuries at different ages is helpful, as it can prepare you to identify the signs of a problem and learn how to respond appropriately.
Developing bodies and high levels of activity contribute to risk in children
Children and adolescents often tend to have a seemingly never-ending supply of energy, some of which is spent on sports and exercise, among other things. The high participation levels in sports and the generally active habits of kids are the primary reasons foot and ankle injuries occur so frequently. But in addition, children's bodies are still growing and have not yet fully developed, which increases their risk for injury even further. Below are some of the injuries that are most likely to be seen in this age group:


Sever's disease: this overuse injury results from inflammation of the growth plate in the heel, which is an area of growing tissue near the ends of bones in children; these injuries are caused by repetitive stress to the heel and are most likely to occur during growth spurts, when a child's heel bone grows faster than the muscles, tendons, and ligaments; symptoms include pain and tenderness underneath the heel


Ankle sprain: ankle sprains occur when the ligaments surrounding the ankle—which connect bones to bones—are stretched beyond their limit in a forceful motion; these are the most common injuries in all of sports, and they typically lead to pain, swelling, and an inability to put pressure on the ankle


Growth plate fracture: since growth plates are weaker than tendons and ligaments, incidents that would normally lead to an ankle sprain in older individuals could actually cause a growth plate fracture instead in children and adolescents; in some cases, both injuries occur at the same time


Stress fractures: these are small cracks or severe bruising within a bone that are caused by repetitive stress or force to the foot; they are particularly common in older adolescents who are extremely active in sports like soccer and gymnastics


Some problems remain common, while other new ones arise later in life
Foot and ankle injuries remain problematic later in life, too. Growth plate injuries are no longer a possibility since the plates are fully developed by adulthood, but a number of other issues become more likely in older age and repeated trauma to these regions. Among those are the following:


Ankle sprain: unsurprisingly, ankle sprains are still the most common sports-related injury in adults, just like children; in fact, about half of all ankle sprains are related to physical activity, and about 25,000 people sprain their ankle everyday; since growth plates are not present, twisting motions to the ankle typically result in a sprain or fracture of the ankle


Plantar fasciitis: generally considered to be the most common cause of heel pain in adults, this condition results from inflammation of the plantar fascia, a thick band of tissue that connects the heel to the toes; when this tissue is overstrained from repeated activity—like running—it becomes inflamed, which leads to a stabbing pain near the heel that's most noticeable upon waking up


Achilles tendinitis: another overuse injury related to inflammation of the Achilles tendon, which connects the calf muscle to the back of the heel; it's most common in runners who do lots of speed training, uphill running, or rapidly increase their training intensity or duration, and it leads to heel pain that usually comes on gradually as a mild ache in the back of the leg or above the heel


Stress fractures: these injuries also remain common in adults and are most frequently seen when the bones and their supporting muscles don't have time to heal between exercise sessions, or when a person changes their usual exercise regimen with a sudden increase of activity or a change in workout surface


Turf toe: this is a sprain of the ligaments surrounding the big toe when it's bent back too far (hyperextended), which is common in football players; it can occur from a sudden, forceful movement or repeated hyperextensions over a period of time, and leads to pain, swelling, and limited movement of the big toe


October 1, 2019
Back to Health Blog